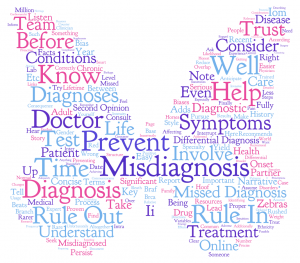 According to a recent IOM report, every adult in the US can anticipate at least one misdiagnosis in their lifetime that will have serious consequence. This adds up to about one in every 20 diagnoses every year, affecting some 12 million people. To be misdiagnosed means that someone has not been diagnosed correctly, has not been fully diagnosed, or their diagnosis was missed altogether.
One can understand how this happens: doctors are rushed for time, often interrupt a patient's narrative that might yield the key facts that will help in proper diagnosis, and many symptoms for different disorders or diseases overlap so it is easy to pursue the wrong branch of a "differential diagnosis".
Read these Top Tips on reducing the likelihood that this will happen to you or a loved one.
Sign up for the Active Patient Advantage to read and download these important Top Tips.
If you are already registered, click here to login.