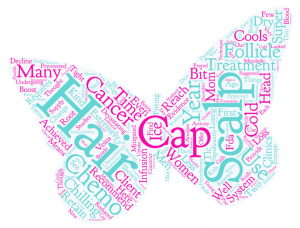 For many women, and some men, the thought of losing their hair while undergoing chemotherapy is devastating—some will even decline recommended cancer treatment because of this. There is evidence that hair loss can be mitigated if not significantly prevented, by super chilling the scalp at the time of the chemo infusion. This kind of scalp hypothermia has been used for many years in Europe. The FDA only approved the first system for use in the US in 2015, though women here have independently been using this technique for some time.
Super chilling of the scalp is achieved by fitting extremely cold caps tight to the head. This achieves two things: 1. the veins that provide blood supply to the scalp constrict as the head cools—this means that there is less chemo that reaches the hair follicles; and 2. for the drugs that do reach the follicles, there is reduced uptake into the follicle because the cold also restricts the root's metabolic activity.
Read these Top Tips on reducing the likelihood that this will happen to you or a loved one.
Sign up for the Active Patient Advantage to read and download these important Top Tips.
If you are already registered, click here to login.